Many people have a SatNav these days and if you have access to one you can simply put TN27 8BB in as a destination.
Our full address is (to find us only on a Sunday morning): Biddenden Village Halls, Tenterden Road, Biddenden, Ashford, Kent TN27 8BB
There are two halls that we use and you can see the older hall from the road. It's next to a large roadside lay-by/ parking area and it looks like this: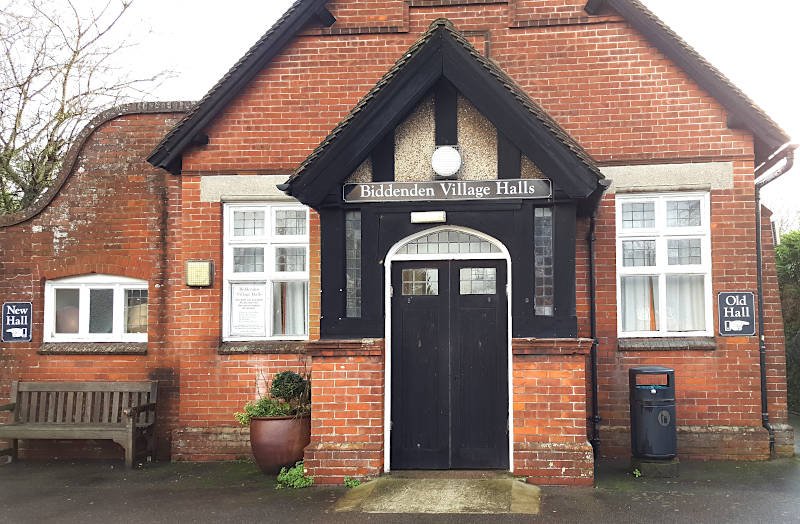 The main church services are held in the New Hall which is easily found by walking down the left-hand side of the Old Hall (as indicated in the picture).
If you don't have access to a SatNav , the following information should enable you to find us:
Directions from the M20 east-bound
Leaving the motorway at Junction 8, take the appropriate exits from the roundabouts to head towards Leeds Castle. Carry on past the entrance to Leeds Castle and on through the village of Leeds until you come to the next main road the A274.
Take a left at this junction and you should soon be going through Sutton Valence. Stay on this road, on through Headcorn.
The village of Biddenden is about 6.5 miles from Headcorn, so once you've travelled about that distance from Headcorn, you should soon see the village hall on your left, set in from the road slightly by the big lay-by.
There is a map below in the footer, but here's a map showing our location to save you going to Google maps and searching there (you can click on the map and pan around and zoom in if you wish):